Put a Stop to Your Pest Infestation with Fantastic Pest Control in Sydney
Emergency and weekend availability
Single and fully guaranteed treatments
Discreet service with unbranded vans
Professionals with years of experience
Professional Extermination of All Common Pests in Sydney
Thorough inspection
The pest control technician will have a good look around your premises to determine the type of animal that has nested within and to assess the level of the infestation. Once the pest has been identified, the expert will proceed to arm traps, place baits, proof entry points with wire wool and sealants, or use thermographic and endoscope cameras to detect movement within your walls.
Professional treatment
Each treatment consists of modern pest control methods and equipment capable of dealing with any rodent, insect, or bird that has become a nuisance. None of the services is hourly-based, meaning that the exterminator will stay for as long as needed until the problem is solved.
Post-service viewing
Upon request, you can receive a follow-up inspection to ensure that the infestation is no longer active. Alternatively, you can request up to two extra sessions at no additional cost, as long as you have booked a guaranteed service. The professional will then revisit your address to check if the treatment had the desired effect and to take any further actions, if needed.
Detailed report and prevention
Before leaving your premises, the pest controller will issue you a pest control report, containing detailed information about the methods and products used during the service. You will also receive useful tips on how to further proof your home to prevent any future infestations.
Why Our Pest Control Services in Sydney Might Be Your Best Choice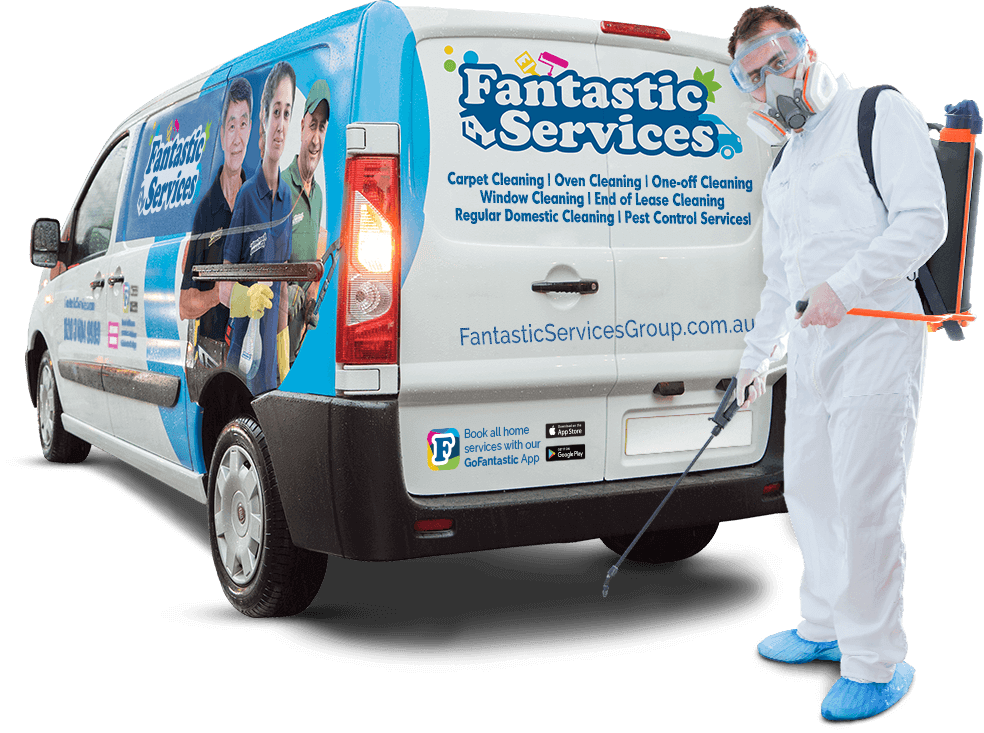 A leader in the field of pest control and extermination, Fantastic Pest Control Sydney can effectively take care of your vermin issues using a list of tried and tested approaches, implementing a unique mix of pesticides, traps, lures, sealants, gels, and more.
However, what makes us truly stand out from the crowd is our ability to always be there when our clients need us. We're flexible in our scheduling, so as long as we have availability, you can book us any day of the week (even on bank holidays). The Sydney pest control experts are:
Certified, experienced, and fully insured
Successfully passed all Fantastic Academy training courses;
Received training on how to safely handle rodenticides and insecticides;
Carry a public liability insurance;
Follow all safety regulations, including the Dangerous Substances Act and DELWP.
Equipped to battle a wide variety of pests:
Quick to identify the pests, their entry points, and the signs of an ongoing infestation;
Know how to apply the latest proofing and pest prevention methods in the field;
Use traps, bait boxes, a variety of sealants, and efficient products by a trusted supplier;
Carry professional equipment.
Select a service from our wide range of pest control treatments
Frequently Asked Questions
How can I request a service?
You can schedule any of our treatments by either filling in our online booking form (available 24/7) or by giving us a call on 02 9056 3528 at your earliest convenience.
Do you offer a same-day service?
Yes, we can arrive at your preferred time, as long as we have the availability to do so.
How many pest technicians can I expect to arrive?
We usually dispatch a single pest control operative per address, but can readily send out more technicians if necessary.
What products do you use?
We use a wide array of professional-grade rodenticides and insecticides that are not available over the counter. Each and every one of them has been approved and provided by a reliable Australian supplier. In addition, all specialists carry the latest professional equipment available.
Are these products safe to use?
The pesticides that we use are very efficient against specific pests, but harmless to humans and pets. Still, we will always recommend you to remove your pets and exit the building prior to the treatment. Your property will be good to go in just a couple of hours after service completion.
What should I do prior to the treatment?
Please remove any traps, lures, or pesticides that you've previously applied yourself. For insects, you should also remove your pets from the property, thoroughly vacuum the affected surfaces, and cover any exposed foods. That's about it – the technicians will take it from there.
Can you give me a guarantee for the treatment?
If you book our guaranteed treatment, you get the option of requesting up to two follow-up visits free of charge. The professional will arrive to check if all pests are dead and will administer further treatment in case he spots any activity. In that case, we would ask of you to give the pesticides enough time (at least two weeks) to take effect before scheduling another inspection.
What types of properties do you treat?
Fantastic pest control in Sydney can readily aid residential, public, and commercial properties alike, including hotels, schools, restaurants, cafés, shops, offices, warehouses, and more.