Pest Control in Hurstville
Insured, certified and skilled exterminators
Survey, treatment, monitoring and proofing
Discreet pest control services, upon request
Special rates with our Fantastic Club
Customised commercial pest management options
Why entrust the job to a Fantastic pest controller in Hurstville
Who is up for dealing with fleas, mosquitos, cockroaches and the like if these bugs happen to choose your home or business facility to be their breeding ground? No one, we imagine. Yep, the market is full of pesticidal products that you can try to apply yourself but trust us, the result can be more than devastating - a lingering and quite resolved infestation or a sickly-looking cat - your beloved pet. So, don't risk setting up poisonous traps willy-nilly or spraying around your home without the right protective gear! But call Fantastic Pest Control in Hurstville and leave the job to a skilled professional.
You can schedule your appointment with us online in less than a minute and have the peace of mind that someone who knows what they are doing will handle your pest situation. And if your request is somewhat urgent, we'll treat it as an emergency. We'll send out a local pest specialist as soon as possible to inspect your property and take actions right away.
The service includes, as mentioned above, a thorough inspection. The exterminator will check potential breeding grounds, hiding places, entry points and so on, in order to determine how far the infestation has gone. Signs of damage, marks, faeces, eggs, etc. will also help the technician evaluate the situation. He'll be able to decide on the most effective treatment method, based on his findings.
The pest technician will proceed with applying an effective product, be it an insecticide or rodenticide in the form of baits. Against mice and rats, he can also set up traps, at an additional charge, if that's what you prefer or the situation requires it. Those are checked every few weeks and reloaded until there's no sign of the furry vermin. In some cases that involve an insect infestation, we ask the client to grab their pets and leave their home for a few hours during the treatment for safety reasons.
We offer one-off treatments and 1-month or 3-months guaranteed services, depending on the type of pest you've got problems with and on the severity of the infestation. You see, with some types of pests, a follow-up inspection in a few weeks and a secondary treatment are simply a must. In that sense, we always ask you to keep a close eye on the situation in the weeks to come and contact us if you see active bugs or rodents still scurrying around your property.
The pest technician is always happy to give you some tips on how to proof your home against recurrences. Naturally, there are always things that you can do (or you should avoid doing), in order to prevent the same problem from happening again. Furthermore, at the end of the service, you'll receive a written report with important information, which you should keep somewhere safe for future reference.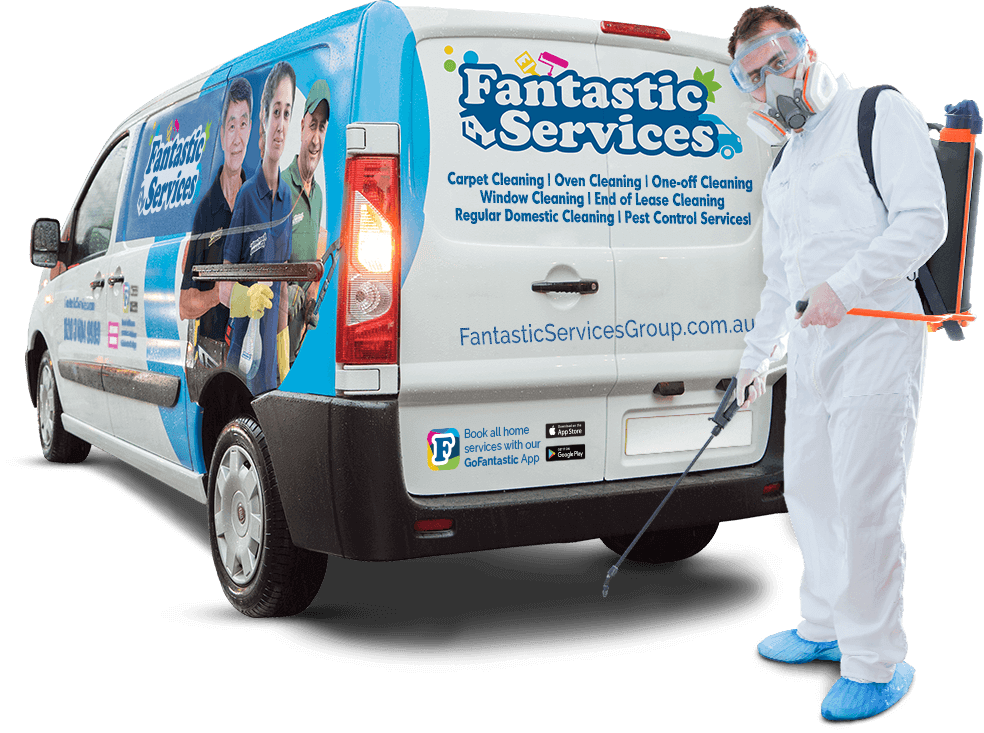 Do you know your pest controller in Hurstville?
This is Will - our pest control partner in the area, who's proven that he can handle vermin infestations of different levels of severity. The specialist is certified and insured to work with powerful anti-pest products, which he applies safely in commercial and residential properties alike.
Will has been part of Fantastic Pest Control for some time now and covers various towns in the Sydney area. He applies our standards and practices diligently, which means that he always performs a thorough inspection of your home or facility before going ahead with the right pesticidal treatment. We've been receiving only stellar reviews from customers about his work, so don't hesitate to entrust the job to him anytime.
Fantastic Pest Control is in many more locations around Sydney
That's right! Apart from Hurstville, we also provide our services in various other towns, located in the Sydney area. So, insect infestations and problems with rodents will no longer be an issue if you reside or run your business in the areas listed below.
Pest control services you can book in Hurstville
Mice control

It's a known fact that mice can gradually cause damage to your property and transmit diseases. They can also cross-contaminate surfaces and bring fleas in your home or place of business. The little rodents are famous for being a fire hazard, too, as they love to chew on wiring and cables. And as the rodents breed at a very fast rate, an infestation can go out of hand in no time and before you know it. So, contact Fantastic Pest Control if you suspect that these pesky vermin are lurking on your property and we'll send a skilled pest technician to help you out. We use industry-grade rodenticidal techniques that eliminate mice or rat infestation with effective results.

Bee removal

Bees are an important insect in our ecosystem and more often than not, it's a protected species worldwide. And although there are some invasive bees in Australia, we avoid killing the beneficial creatures if we can. Our bee control services involve immobilising the insects, first and then, safely removing their nest. Note that the pest experts, we work with, can discern the stinging species that have settled on your property and confirm whether you've got an issue with bees or wasps.
Insect infestations are treated with various effective insecticides, be it a fogging agent, a product in a powdered form or some sort of spray. Some insect species best "respond" to bait treatment and others (termites) should be ideally eliminated through setting up monitoring and treatment stations. Whatever the case, rest assured that we can put a stop on bed bug, roach, moth, flea, mosquito, ant, or beetle infestations effectively and with your safety in mind.

Commercial pest removal services

Imagine one of your clients spotting a roach in the toilet of your restaurant! Would they ever set foot in the place again? No. So, don't wait for this to happen but choose our pest control and prevention services right away. We can set up a comprehensive plan that includes regular inspections and treatments if needed. But more importantly, we'll tailor your service to fit in with your individual business needs.