Pest Control in Inner West
Pest repellent and extermination solutions
Effective against various types of insects and rodents
Professional services, not limited by time
All-week round availability (public holidays included)
Up to $40 off with the Fantastic Club
What to expect from your pest control service in Inner West
Fantastic Pest Control in Inner West has been helping businesses and ordinary folks stay pest-free for some time now. What you should know about our company and the way we perform our anti-pest solutions is that your safety and intact reputation are always at the top of our priorities. This means that we take extra care to abide by all safety regulations, as well as make every effort to complete the service in a discreet manner if this is what you've requested from us.

We rely on qualified and experienced exterminators, who operate locally and have the right certification for the job at hand. They are helpful, trustworthy and fully insured, too. So, whether nasty roaches have invaded your kitchen or moth larvae are munching on your linen and clothes, just give us a call or book online a professional inspection for a day and time that suits you, 7 days a week.

The pest controller will first check the affected areas. The purpose of this is to pinpoint with precision all the signs of pest activity. For instance, if you suspect rodents running havoc in your home or place of business, the type of marks, the shape of faeces and the kind of damage left behind will be the telltale signs, which will help the expert to decide whether you've got a rat or a mice problem on your hands. Or in other words, this first stage is very important, in order for the right treatment technique to be employed.
Depending on what type of pest has invaded your property, the pest controller may resort to using baits, spraying or dusting a powerful insecticide, installing traps or monitoring stations and more. Note that in some cases, you may be asked to vacate the property for your own safety, where any pets should also be removed for a few hours while the service takes place.
We always recommend staying vigilant after the initial treatment, as it usually takes time for the vermin to perish. You see, it's possible for some of the intruders to escape unharmed, due to their survival abilities and sneaky nature. On that note, some of our insect control services actually include a second treatment (ex: bed bugs, termites) exactly for this reason. But it will be your responsibility to contact us in due time after a few weeks. Also, we've got guaranteed options for other services from our range, where, again, you can have a follow-up visit or two within a period of 1 or 3 months.
Once the treatment has been completed, the technician will finish off your service by filling in a detailed report. He'll also advise you on what you'll need to do/avoid doing so that the product stays as effective as possible for longer. You'll receive tips on any preventative measures that you can easily take to deter the same pest from causing you issues in the future.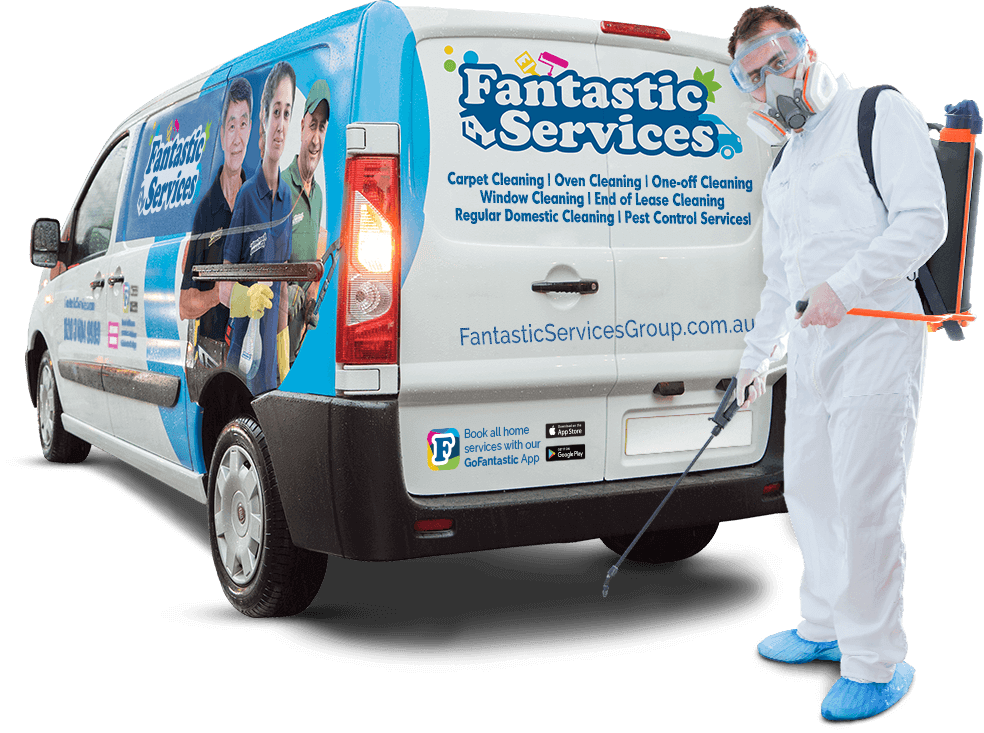 We work with certified local pest technicians
One of them is Will. He specialises in a range of pest control services, which deal with rodent infestations, bed bug, flea and cockroach issues of any scale, and other types of insect problems. The exterminator uses various products and devices to eliminate the vermin. Will also shares his expertise on pest prevention and proofing, upon request.
By entrusting the job to him, you can rest assured that your property will be treated safely against the pest. What you can expect is long-term results and a home or place of business that is free of any insect or rodent activity. The pest technician is known in the area for his helpful attitude and discreet way of treating your property.
Need a pest control service in another location around Sydney?
We cover a number of towns in the Sydney area, apart from Inner West. You can see some of the areas in the list below, where you can hire a Fantastic pest controller and have your place inspected and treated against a number of insect pests, rats and mice.
Our anti-pest solutions in Inner West
Rat control

Our rat control services are suitable for both domestic and commercial properties. We usually use baits rather than traps, unless the installation of the latter has been specially requested by the client at an additional charge. The effect of the anti-rat treatment can be noticed after about 3 weeks but to be on the safe side, you can book a guaranteed service with us, which includes follow-up visits if necessary and upon request within a fixed period of time. In addition, we offer rodent control solutions against pesky house mice, as well.

Wasp removal

Wasps in their number could pose a serious threat if they "decide" to get angry. And our advice is to never try to deal with a nest on your property by yourself. Call a professional wasp nest removal specialist, who knows what he's doing and has all the safety gear to do the job. Fantastic Pest Control in your area can handle the extermination of a wasp colony and offer expert advice on what to do to avoid such problems in the future. On that note, we also provide an effective pest treatment against various other flying insects, such as beetles, moths, mosquitos and more.
Fleas are naturally associated with having pets at home, but infestations sometimes occur even if you don't have a furry pal. For instance, rodents and wildlife animals can also cause a flea problem. And although these blood-sucking hopping critters rarely choose people as their host, you can still get up one sunny morning all bitten and feeling itchy. Well, worry not, because we are experts in flea extermination and for that matter, in other crawling insect control solutions against roaches, ants, termites, bed bugs and more.

Pest management for business

Commercial properties and public service facilities also need to stay pest-free at all times, of course. So, if you own a food service place, hospitality business or manage any other type of commercial establishment, benefit from a well-devised pest management plan with us! From regular pest inspections and treatments, when needed, to expert pest prevention advice, take advantage of our expertise that will be provided to you discreetly and with your impeccable business image in mind.