Pest Control in Blacktown
Experienced local pest control company
Fully certified pest controllers near you
Guaranteed multi-visit packages
Emergency pest inspection and treatment
Up to $40 off if you join the Fantastic Club
Say 'Goodbye' to the vermin with our pest control services in Blacktown
Need professional pest extermination help in Blacktown? Then, look no further and contact Fantastic Pest Control now! We specialise in various vermin removal solutions that include investigation of the problem, treatment, monitoring and proofing. Our company takes great care in selecting only experienced, skilled and fully certified technicians, who are also well-trained in abiding by all safety regulations.

You can count on a discreet service, as well, which means that your reputation or business image won't get affected in an adverse fashion. Just specify your request to us and we'll send a professional in an unbranded van on a day that suits you the most, including outside business hours and even on a public holiday. Don't forget that you can easily book with us online to save time!

On the day of your appointment, the exterminator will arrive equipped and ready to assess the situation. He will check the affected areas in your property and determine the type of pest, the scale of the infestation, as well as the best method to use, in order to eliminate the vermin.
The specialist will proceed with applying the right pesticidal technique, which may include the use of an insecticidal spray or powder, traps or baits installation or the setting up of insect monitoring stations, depending on what type of vermin has invaded your home or commercial property. You'll be notified in advance if you need to vacate the building prior to the treatment.
With all our effort, unfortunately, residual pest activity may be observed after the treatment has taken place, due to the specific habits and particular life cycle aspects of the vermin, you have a problem with. This is why we offer guaranteed service packages that include follow-up inspections, upon request.
As prevention is the best cure, we always finish the service by offering our customers expert proofing and prevention advice. The exterminator also prepares a detailed service report, which contains information about the product used. In addition, he will let you know about what you should do or avoid doing, in order to make sure that the treatment remains effective for longer.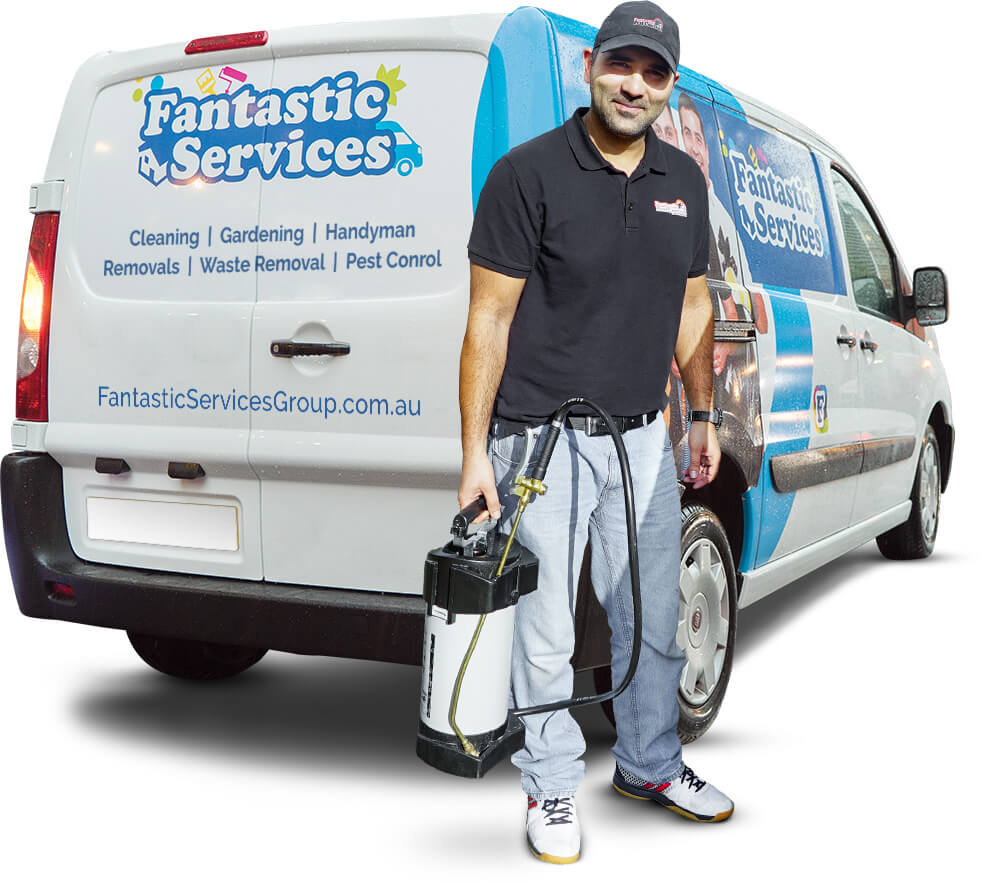 Your pest controller in Blacktown
Let's meet Ali, your local pest technician, who serves homeowners, renters and business proprietors in Blacktown. He has invested years of his time in acquiring the right skills, tools and certification, in order to fight pest infestations of any scale effectively and with your safety and reputation in mind.
Ali joined our Sydney area crews in 2014 and since then, he has been providing rodent, ant, cockroach, bed bug control and more. The pest exterminator has extensive knowledge on the habits and life cycle of various insect pests and rodents that helps him determine the extent of the infestation. He also recommends effective proofing tips and pest prevention techniques after each job to help our clients maintain their properties vermin-free.
Where else you can book us apart from Blacktown
We are growing and now cover numerous locations around Sydney. Check out below the areas that Fantastic Pest Control serves! If you don't see your town on the list, contact us to enquire and get more detailed service coverage information.
Our pest management service options in Blacktown
Mice and rats

Although they are two different species, mice and rats can cause similar property damage when they invade your home or business facility in their numbers. So, considering a professional extermination service if you suspect a rodent infestation is always recommended. The Fantastic pest technicians use industry-standard anti-rodent methods, which effectively eliminate the vermin and keep recurrences at bay.

Wasp removal

Wasp nests on your property can prove a health risk, if disturbed. Therefore, do not deal with the potentially aggressive stingers yourself! Get professional help instead and leave the wasp removal to an experienced specialist! He simply knows how to immobilise a wasp colony and then, safely remove the nest.
Insect pests are a nuisance, as they are hard to spot and get rid of. On that note, folks often feel apprehensive to use toxic insecticides, especially if they have kids and pets. This is where Fantastic Pest Control can come in handy and help you exterminate the crawling or flying little critters with stellar results, whether you have a problem with destructive termites or moths, health-hazardous roaches and mosquitoes, or pesky bed bugs and fleas.

Pest control for business

We also specialise in commercial pest control services, which are suitable for facilities operating in the food, hospitality, storage, real estate industry sectors and more. With a comprehensive pest management plan in place that includes regular inspections, treatments and follow-up visits, as well as prevention consultations, your business will be in good hands with us.