Effective Pest Control in Bankstown
Safe pest control methods
Trained and vetted specialists
Professional products and equipment
Post-service report and prevention tips
Emergency appointments & flexible work schedule
Save your home from pests with our extermination services in Bankstown
Dealing with any kind of pest infestation, be it a rat or bed bug one, is definitely not a pleasant experience. This is where we come in. Fantastic Pest Control offers effective extermination services in Bankstown that will rid your property of any vermin problem. And how do we achieve this? At our company, we work with the very best pest controllers in the area, who have years of training and a well-developed skill set.
The professionals work with industry-grade equipment and products, so you can be sure that you are receiving a quality service. In terms of availability, we understand how worrisome a pest situation can be. That's why we have a 7-day work schedule and offer emergency visits to our clients. So, if you see a mouse having a late-night snack in your kitchen, don't hesitate to give us a call!
The professional will start off the service with a thorough inspection of your property. He will look for pest signs, such as marks, access points, damage, etc. By doing this, the pest controller can determine the size of the infestation and type of extermination treatment he needs to use.
Each type of pest requires a specific extermination procedure that may involve the use of insecticide sprays, baits, traps, and so on. Keep in mind that some of the methods will require you to evacuate your family and pets for a couple of hours.
Depending on the type of pest that has invaded your home and the size of the infestation, your problem can be dealt with in a single visit. However, we highly advise monitoring your property post-service for a potential vermin come-back. You can do so with our guaranteed service packages that come with up to 2 additional follow-up visits.
If you have any questions that you might want to ask the Fantastic pest control technician about your vermin problem, feel free to do so. The specialists, we work with, have a lot of experience in the field and will be more than happy to share their expert advice or prevention tips.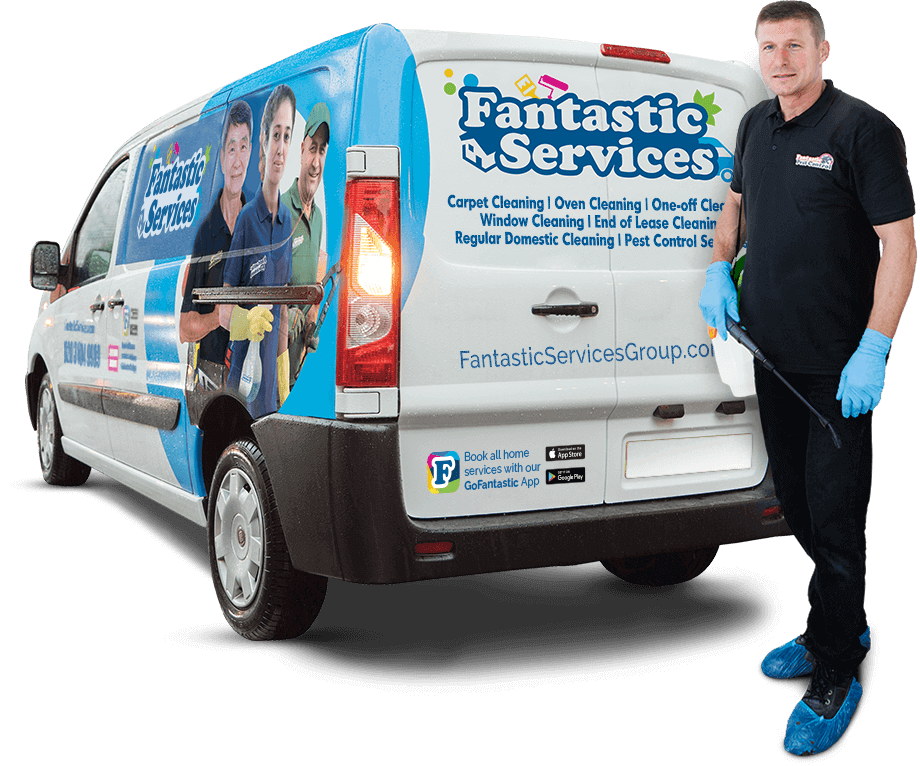 Your trustworthy Bankstown pest exterminator
We are happy to say that Fantastic Pest Control in Bankstown works with local and experienced pest controllers, ready to tackle any pest situation you might be facing. The technicians know their trade well and are devoted to what they do. A good example of a pest controller in Bankstown, possessing all of these characteristics is Aidan.
Aidan joined our company way back in 2013. In that time, he mainly focused on rodent control, but since then, he developed an even bigger set of skills and now can perform ant control, bed bug treatment, spider control, cockroach control and more. In order to make sure that you are delivered an effective and quality service, the technician carries out his pest control procedures with the use of industry-grade equipment and tools. Basically, if you need a pest-free home, Aidan is the exterminator to call.
The areas we cover outside of Bankstown
If you want to book our extermination services and wave goodbye to your vermin problems, but aren't sure if we cover your location, please, check the list we've provided below for more information.
Some of the pests we can take care of in Bankstown
Rodent control

If you have a mouse or rat problem, no need to panic - Fantastic Pest Control will resolve the situation in no time. We offer pest control solutions for both types of rodents that will eliminate the infestation for good. The technician providing the service will install special baits for the already present critters and will seal any access points to deter future furry visitors, restoring the safety of your home.

Ant extermination

Nobody enjoys finding ants munching on their plate of cookies, left on the kitchen counter. If these small intruders have been "bugging" you, just give us a call. Our methods include the use of an insecticide spray, which works very fast and is extremely effective against ants.
We deal with anything from wasps and mosquitos to flying beetles and moths. In two words: if it's in the air and giving you trouble, consider it dead. We take care of the flying pest problem with the help of powerful insecticides and, depending on the type of bug, include additional precautionary procedures.

Commercial extermination procedures

Do you know what a business owners' biggest fear is (besides bankruptcy, of course)? A pest infestation. No matter if we are talking about a hotel, restaurant, retail facility or office space, freely running mice, rats, bed bugs or ants are never a pleasant sight, neither for you, your workers or customers. That being said, Fantastic Pest Control also specialises in commercial property treatments that are customisable, effective, safe and, of course - discreet.