Pest Control in Chatswood
Guaranteed service packages
Certified local exterminators
Safety, warranty & prevention advice
Not hourly-based treatments
Up to $40 off with the Fantastic Club
Get discreet pest control inspection & treatment in Chatswood
Isn't it just dreadful to get up one morning and find a roach or two scurrying on your kitchen floor? We don't even need to imagine the look on your face, because we've heard stories too many times. Well, worry not, as you've got the experts of Fantastic Pest Control at your service! We are happy to inform you that we cover a wide area around Sydney and Chatswood is no exception.
Just contact us at the first sign of rodent or insect activity and we'll send a fully-equipped and qualified pest technician to your address, who will see to the problem in a discreet manner. We have appointment slots, available throughout the whole week and can come to your assistance during out-of-business hours. That's right, this includes evenings, weekends and holidays. Booking can be done super easily online or you can give us a call if that's what you prefer.
The first step, your service provider will take, is to carefully check out the affected areas in your home, office, restaurant, etc. You see, often, clients believe they've got a problem with a type of pest only to discover that this is not the case. We've been called to, say, get rid of rats, while the property was actually infested with house mice. So, to sum up, the specialist will investigate and confirm what sort of infestation you've got on your hands and how serious it has become. After all, the right decision on what treatment method and product you need depends on this.
Next, the technician will get ready to apply the pest treatment that fits your case. At this point, you may be asked to leave the property for a few hours, if the use of strong insecticides is required, be it in a spray or powdered form. Your safety and that of any pets you might have, comes first, of course. This might not be necessary if the service involves the removal of wasp nests, dealing with bees and rodents, as well as with some other types of bugs like ants and termites.
Here, we should point out that often, one visit is not enough to resolve your vermin issue. The reasons could be more than one - the infestation is so severe that requires close monitoring over several weeks, even months; the type of insect pest you've got simply won't vanish there and then, due to its life cycle specifics, and more. Well, as we know all this, we've got various service packages to choose from that involve observation options and follow-up treatments over a fixed period of time (1 to 3 months). The exterminator will recommend the right course of action during the first inspection, so don't worry about a thing!
You should expect the following at the end of the service from your friendly and knowledgeable pest controller: a written service report; expert tips on how to prevent this nightmare from ever happening again; advice on what you should not do, in order to make sure that the product does its job (no vacuuming and mopping for a few days, for instance); post-service safety information and so on.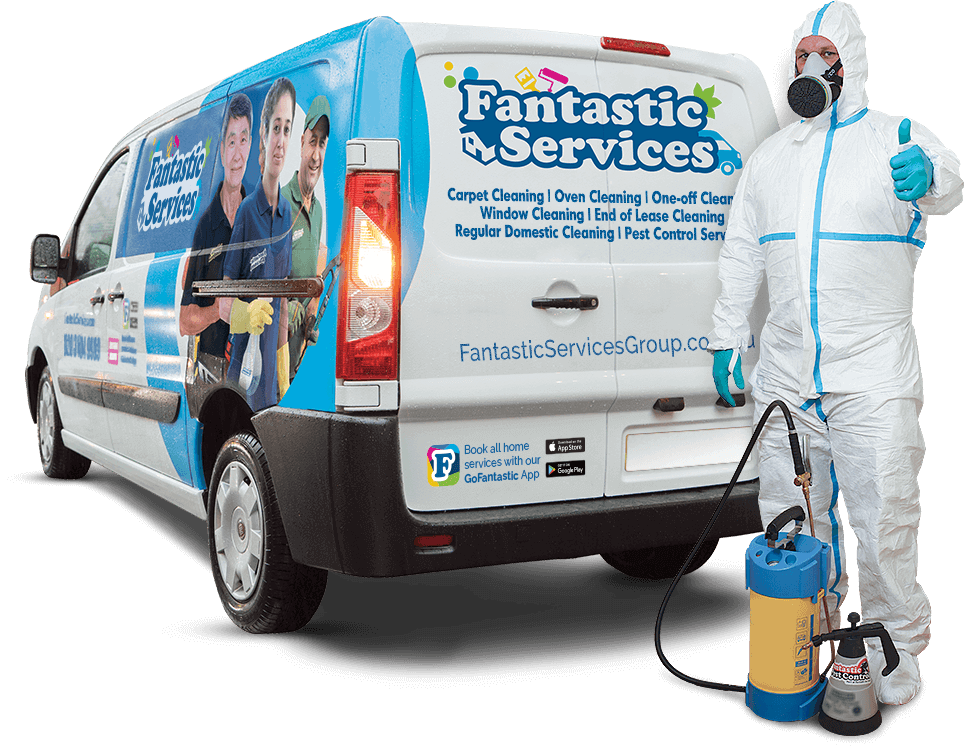 Our clients in Chatswood are served by one of the best exterminators in the area
Hmm, a very strong statement, we know… But let us share with you why we believe that Daniel - your Fantastic pest control technician in Chatswood (Sydney), is the man to call. Well, for starters, he's been an exterminator for years, well before he joined our pest removal crews. He takes his job very seriously and invests in further qualification and certification. Just to note, Daniel specialises in various insect control services and is an expert on getting rid of mice and rats.
What's more, he has not had any customer complaints so far, which is an achievement, considering that most people are very sensitive when it comes to vermin problems and expect those to be resolved with a magic wand straight away. Or in other words, Daniel has the patience and the right approach to build an instant rapport with the clients, in order to reassure them that he knows what he's doing and that he'll get the desired results.
We cover other towns in the Sydney area, too
Chatswood is just one of the areas around Sydney that we serve. So, check out the list below and navigate across our website to see where else you can book a pest control service with us!
How we can help you in Chatswood
Rodent infestation

The above sounds way too scary and disturbing. And brings a horror-movie-like image in our minds. But see, even if you've realised that you have just a few tiny mice that have found refuge up in your attic, the speed they can breed at could well make this mental picture a grave reality. So, don't underestimate the sign of rodents at your home or place of business, regardless of the species - mice or rats! But contact a professional exterminator to set up baits or traps and deal with the problem with guaranteed results.
We provide a range of insect control services, which deal with both flying little critters and crawling bugs. The insecticidal methods we use are effective, of course, against their eggs, larvae and pupae, too. From bed bugs, cockroaches, various types of spiders and moths to mosquitos, fleas, wasps and more - we've got the equipment and knowledge to free you of their presence. We use different products to eliminate insect infestations, which are always applied in compliance with all relevant safety regulations.

Termite control

You may ask why we bring a special focus on termites. They are also insects, right? Well, we just wanted to get your attention to the fact that the elimination of a termite infestation requires time, extra expertise, diligence and patience. The little house and furniture destroyers are just too hard to get rid of, once they've settled deep into the wooden structures, fixtures and fittings in your property. You can check out the designated page on this website for more detailed information on what our termite control treatment includes.

Non-domestic pest services

We are also a commercial pest control service provider that helps numerous businesses operate in a vermin-free environment. This means that our non-domestic clients don't necessarily have to wait for the worst to happen, but they can seek our assistance as a preventative measure, too. So, if you run a cafe, hotel, restaurant, or manage a health facility, storage business, etc., contact us to see how we can help you with your pest management needs long-term. We'll assign a personal account manager to you, who will oversee your relationship with us and ensure that pest inspections and all prevention procedures are carried out up to your satisfaction.