Sleep Tight. The Melbourne Bed Bug Control Experts Won't Let the Bugs Bite!
Immediate Knock-down Effect
Professional Modern Equipment
Agency-approved Insecticides
Ensure Your Good Night's Sleep by Ordering Efficient Bed Bug Treatment in Melbourne
Want a better night's sleep? Getting Fantastic Pest Control Melbourne to eradicate the bed bugs from your home will surely help you with that. Although these blood-suckers are not known to transmit diseases to humans, their bites are itchy, painful, cause discomfort, and could easily be avoided. Just get hold of the bed bug controllers and a team of experts will come along, ready to oust the infestation for you.
Bed bugs are tricky to locate and reproduce extremely quickly, so timely detection and eradication of the insects is critical. And for everything to be handled efficiently you need the help of the qualified pest controllers in Melbourne.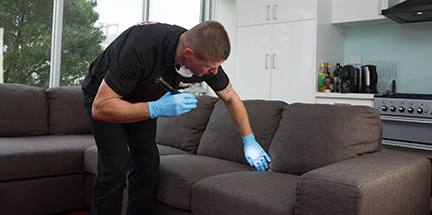 Upon arrival, your pest technician will take a look around your property to determine just how infested it is and what areas are affected the most. Then, he will make preparation for the bed bug treatment. Have in mind that the usual treatment consists of 2 visits according to the Australian Standards and industry Codes of Practice.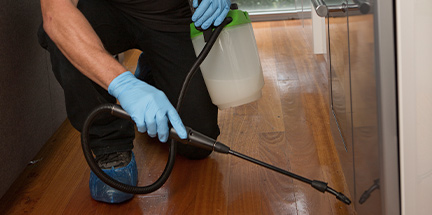 The bed bug controller will spray the affected areas with a potent industry-approved insecticide. This includes mattresses, bed frames and underneath the bed, skirting boards, floorboards/carpet, corners, cracks, crevices, around all furniture etc. The exterminator will also be spraying the frames of drawers, the frame of pictures (paintings) etc. This will eradicate the majority of the adult bed bugs and their nymphs (the young bed bugs).
Recommended period of time to be away from your house is 4h. The service usually takes from 40 to 90 min.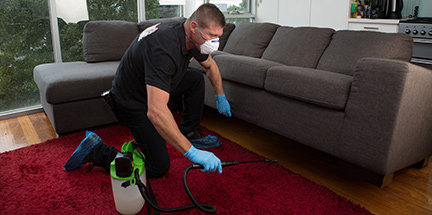 Bed bugs have a life cycle of 10 to 14 days that's why a follow-up visit is highly recommended. This way we exterminate not only the mature generation but the new one as well. The pest controller will return to your property 2-3 weeks later for another treatment that will eliminate the remaining bed bugs.
The service comes with 2 months guarantee, including 1 follow up visit. If the infestation is heavy, the technician may recommend that 2 visits will not be enough. He would confirm on site how many more visits are needed and what would be the cost.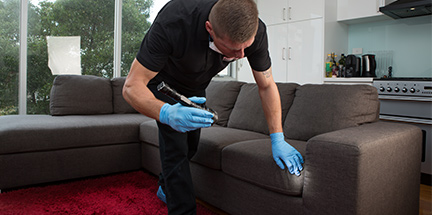 Before the pest controller arrives to carry out your service, there are a few things that you can do to make it even more effective.
Vacuum clean the affected areas to remove some of the bed bugs.
Remove all bed sheets, mattress protector, base protector, clothes from the wardrobe of the affected room and put them in plastic bags. After we finish the service, wash them with high temperature before putting them back in there.
If there is a sofa bed affected, remove all of the cushion covers if you can. Put them in a plastic bag too and wash and put them back after we finish the service.
Make sure that the access to the affected areas won't be obstructed in order for the bed bug treatment expert to get to them.
Also, when the specialist is done with the eradication, he can share some useful tips on how to avoid future insect infestations.
If you encounter any other pests, don't hesitate to give us a call! We can deal with ants, termites, rats, mosquitoes, and more.
Frequently asked questions
Is there anything I must do after the service?
No one should stay in the property for 4 hours after we treat the affected areas, including pets. Please do not clean the treated areas for at least 4 days. Don't wash them, don't mop them, don't sweep them, don't vacuum clean them. Let the insecticide do its trick. We only recommend the room to be well ventilated when you come back to your house.
Do you offer a service warranty?
You have 60 days warranty period in which you can arrange 1 follow up visit (if required) free of charge. We don't give a warranty if you don't want to spray the whole house, because these creatures might be hiding in many places.
Are bed bugs dangerous?
They are quite the nuisance. The bites can cause an allergic reaction like asthma attacks and anaphylaxis, also bed bugs can transmit Hepatitis B. House pets such as cats, dogs, bunnies, and hamsters are particularly vulnerable to their attacks.
How long until the treatment takes effect?
It has an immediate knock-down effect on the adult bugs. Some of them might survive by developing a resistance or going into hiding. However, the secondary treatment will surely put an end to those that survived the initial pest control session.