Expert Pest Control in Ryde
Inspection, treatment & follow-up sessions
Performed by certified pest control technicians
Lower price rates with the Fantastic Club
Easy-to-use online booking form
7-day availability
Why choose Fantastic Pest Control in Ryde
Pests are nasty. Period. No matter if we are talking cockroaches, bed bugs, ants, mice or rats - even a single representative of any of them can cause a serious infestation. That's why dealing with a pest invasion in its early stages is best both for you and your home. But why waste time setting traps and spraying your house with nasty and very ineffective store-bought pesticides and repellents, when you can leave the task to the professionals?

Fantastic Pest Control in Ryde is here to save the day! We can exterminate almost any type of pest out there. Spiders, ants, mice, rats, flying insects - you just name it and consider it gone.

"But how do you achieve these super-duper, never-before-seen, and let's not forget - amazing, results?" one might ask.

Well, the pest controllers, we work with, are specially trained, use professional equipment and extermination products, and let's just say, they have a lot of experience in showing nasty bugs and rodents who's the boss. And this is just half of it. We also have a convenient work schedule, a 7-day availability, offer emergency visits and provide additional follow-up inspections. Can't get more Fantastic than this.

Our pest control services always start with a property inspection. By doing this, we get a better idea of the size of the infestation, make sure of the type of vermin we are dealing with, and also choose the right extermination method.
Once the exterminator has chosen his "weapon" against the pest army, which can be anything from a mouse bait, insecticide spray to a trap, he will proceed with the execution of the service. If the pest control methods require you to leave the property or evacuate your pets, the technician will tell you in advance.
You see, no two pest infestations are exactly the same. Sometimes, we just need to get rid of a single mouse and the horror movie is over, while other types of vermin require us to make a few more visits. To make things as convenient and customisable as possible, we've developed different service packages with a different number of follow-up inspections for our customers.
After the technician completes the treatment, he will give you a full report on the state of your property, the type of products he's used, and detailed safety information.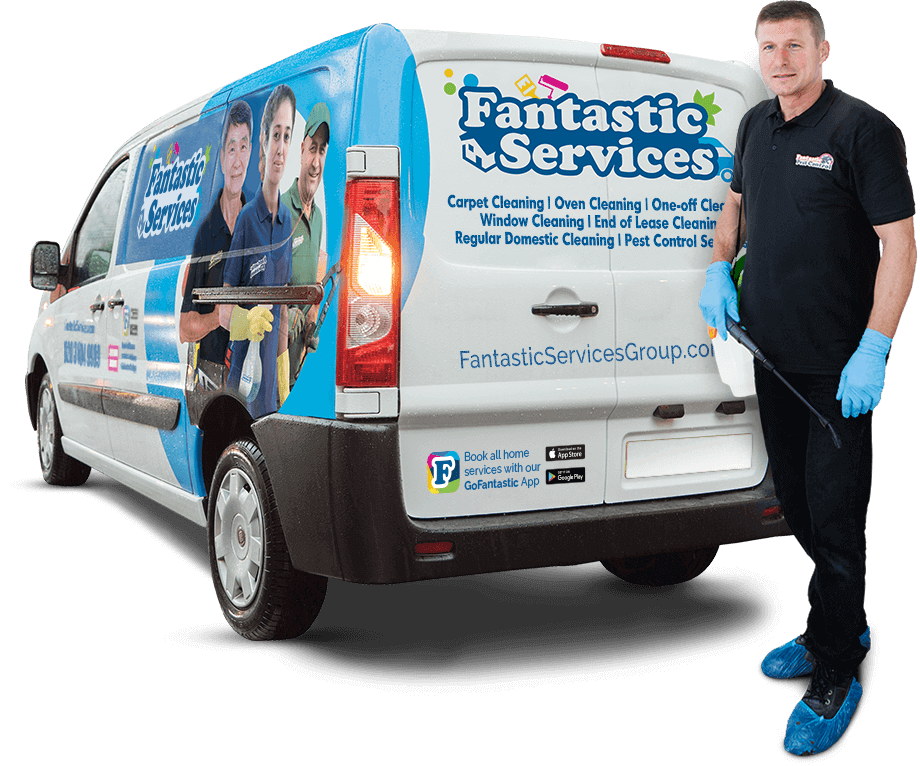 The pest control technician in Ryde you can trust
The main key of a successful service, no matter of the kind, is the person performing it. Therefore, Fantastic Pest Control aims to recruit only the best local service providers out there. Now, give a warm welcome to one of them - Aidan - your trustworthy Ryde exterminator.
Aidan specialises in rodent, cockroach, and flea control service. He joined our company in 2013 and since then, he has managed to save quite an impressive number of properties from all sorts of pests. The pro works with high-end equipment, has a well-developed skill set and is knowledgeable about probably any type of vermin that exists. In two words: if you need to send a spider screaming, Aidan is the Fantastic professional to look for.
Our coverages outside of Ryde
Need a visit from a pest control technician ASAP? Check the list we've provided below and see if Fantastic Pest Control covers your location!
Our extermination services in Ryde
Rat extermination

Let's face it - rats are a scary thing. They are big, nasty, and carry numerous diseases. Fantastic Pest Control offers safe rodent extermination methods that will rid your property of the furry creatures in no time. We use special baits or traps, which lure out the vermin from their homes and lead them to their end. If you've spotted more than 1 or 2 rats running around your house or garden, we highly suggest booking our guaranteed service package that comes with additional follow-up visits for best results.

Spider treatments

Spiders are one of those insects that we just can't run away from. If you have a house, you have spiders - that's it. However, if the situation in your property has escalated, and you find representatives of the eight-legged creatures way too frequently, maybe it's time to give us a call. Our Fantastic professionals will resolve the issue fast and easy by applying a powerful insecticide product to the infested areas of your home, which will leave your property spider-free.

Wasp control

Wasps sting, and they sting very badly. That said, having a wasp nest in close proximately to your home or even worse - attached to it, is never a good idea and trying to remove it yourself is a suicide mission. Done by specially equipped exterminators, our professional services will ensure a fast and sting-free wasp nest removal.

Commercial extermination services

Fantastic Pest Control can take care not only of your home but of your business, too. We offer our commercial clients high-quality results, professional products and equipment, a skilful exterminator and full discretion, wrapped in a single service. So, if you suspect that your restaurant, hotel, shop or office space has been attacked by a pest army, call Fantastic Pest Control today!