Professional pest control service in Werribee
Certified local pest technicians
Special discounts for club member
High-end products and pesticides
Options for same-day booking
Fantastic Pest Control in Werribee - Save your property from pests today!
Being a victim of a pest infestation is no pleasant experience, no matter if you're a tenant, you run a hotel or a restaurant chain. Pests bring all kinds of trouble and diseases, which is why they have to be taken care of as soon as possible. Fantastic Pest Control will provide you with trained pest control experts who will take care of your pest problems with guaranteed results.
Our pest control service offers you a 3-step vermin removal process, which includes inspection, treatment and a follow-up visit to ensure high-quality results. Schedule your inspection for any day of the week, including public holidays, for your domestic or commercial property and leave your worries behind.

All pest control services begin with a thorough inspection of the property that will help the exterminator to determine the exact type of pest, their nests and the level of the infestation. He will look for entry points and all possible reasons for the infestation, in order to decide the best possible treatment and provide you with adequate prevention tips.
The first visit is the most important one. Please note that most times you will be required to prepare your property prior to the service, in order to achieve maximum results. The technician will arrive fully-equipped and begin treating all the infested areas, block out all possible entry points and remove nests. After the first visit is complete, the technician will provide you with a full report, advise you on the next step and give you further instructions.
Now it's time to monitor the property and make sure that the treatment has been successful. You may notice new activity or other signs of the infestation, which is why we recommend that you book one of our guaranteed pest control packages. You can have either one or two additional visits in the space of 2 or 3 months after the initial one, to ensure the complete eradication of the pest.
As we mentioned earlier, at the end of your service, you will receive a full report on everything that has been done on your property to exterminate the pests. If this is your first time in a similar situation, don't worry and ask your pest control technician about useful prevention and proofing advice that you can use. He will gladly help you and answer any questions you might have about the pest or the treatment itself.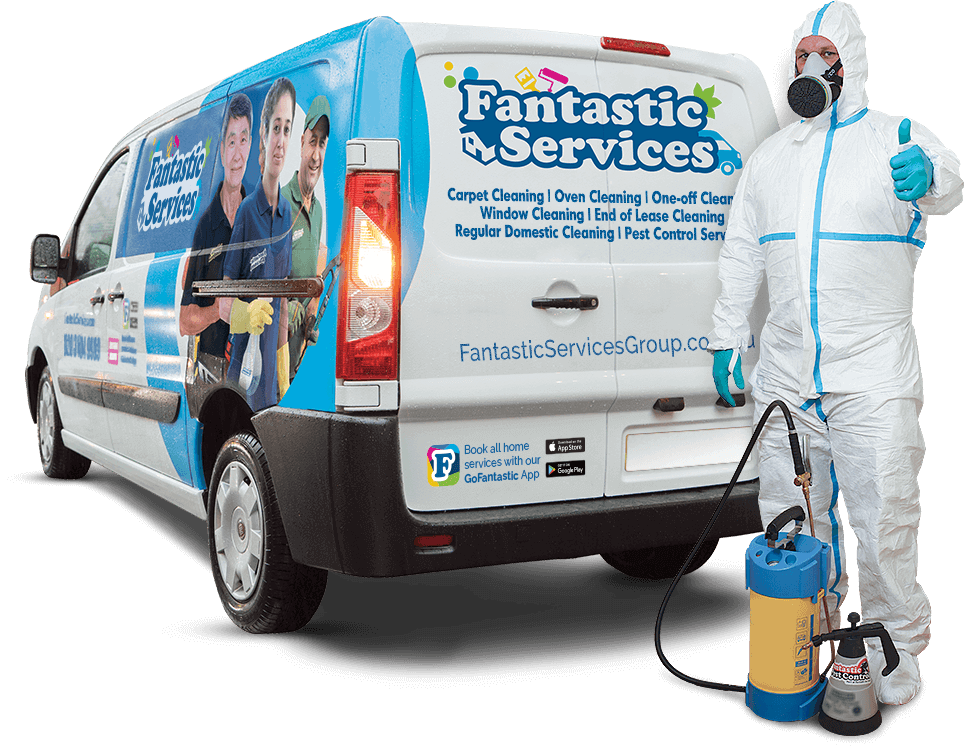 Say hello to your friendly local exterminator in Werribee
We are constantly looking for talented people to join our ranks and luckily for us, Werribee is full of them! One of those amazing experts is the friendly Julian who's been part of Fantastic Services as an exterminator for a number of years now. He is trained and certified to perform various pest control services for both domestic and commercial properties, applying discretion when needed and using safe-to-use pesticides and equipment.
No matter if you are just an unlucky tenant or a business owner, Julian will perform the service thoroughly and give you the needed advice for the future and prevention tips to keep your property pest-free for many years to come.
Areas around Werribee where you can book a service with Fantastic Pest Control
The technicians in Werribee can also go and help out properties located in other areas. They will gladly help any domestic or commercial property with their pest problem, so don't wait any longer and let us help you create a better pest-free environment for you and your family. Here is a list of the areas we cover.
What are the pest control services you can book in Werribee?
The technicians at Fantastic Pest Control Werribee are qualified to help you out with all sorts of flying pests, such as mosquitoes, moths, birds, beetles, bees and even wasps. They are trained to safely remove and relocate bee nests, as well as completely get rid of wasps using fast-acting and eco-friendly pesticides.

Mice and rat control

Rodents can cause a ton of damage to your property and can increase their numbers in a very short period of time. Which is why we recommend that you reach out to a professional as soon as you notice any signs. The pest control technicians will carefully inspect your property, find the nests, block entry points to prevent future infestations and rid your home of the rodents.

Bed bug treatment

Those little bloodsuckers are some of the most annoying and hard-to-get-rid-of pests out there, but our professional exterminators know just what to do with them. Book a service with a three-month guarantee and you will receive two additional visits, during which all the bed bugs in your property will be exterminated with the use of expert, eco-friendly products and high-end equipment.

Commercial pest control

When pests are looking for a place to nest, no such is safe. Bed bugs don't care if they are invading a family home or a 5-star hotel. This is why we work with specially trained pest control technicians, who are skilled and certified to help both domestic and commercial properties. Whatever problems you have, you can count on us to deliver a highly effective, discreet and thorough service for your business property in Werribee.