Budget-friendly Pest Control Services in Caroline Springs
Provided by trained specialists
Professional products and equipment
Fast, effective and lasting service results
Convenient online booking procedure
Reduced prices with our Fantastic Club
Why book Fantastic Pest Control in Caroline Springs for your home

Let's be honest - do you really want to deal with nasty cockroaches, mice or bed bugs by yourself? Besides being a very unpleasant task, it's also one that is best left to a professional. Seriously, those store-bought repellents and cheap mice traps won't do anything for you.

But Fantastic Pest Control will.

In our company, we work only with the very best professionals, who have a lot of experience and skills in the field. Our procedures are performed with industry-grade extermination products and high-quality equipment, guaranteeing fast and effective results. And in terms of working hours, we are very flexible - you can schedule your service appointment with us for any day of the week.

Once you've arranged your booking, a professional pest controller will be sent to your property on the appointed day and time. He will begin the service by first examining your property for pest signs. By doing this, the technician can determine the exact type of pest he'll be dealing with, tell how big the infestation is, and assess any damage that may have been caused to your property.
The next step is the actual extermination procedure. Depending on the type of pest you have, the technician will choose the appropriate pest control method. The procedure can include anything from the use of insecticidal sprays, special powders, gel baits, traps, fumigation equipment and so on. Note that some of the mentioned methods will require you to leave the property prior to the service.
After the exterminator has completed the service, you'll need to closely observe your property in the next few weeks. If you spot signs of a secondary pest attack, give us a call ASAP. Some infestations require more attention than others and more time to eliminate them completely. For bigger infestations and specific vermin, like bed bugs, for example, we recommend booking a service package with additional follow-up visits.
The last part of our service includes a full report containing information on what's been done to your property and, if requested, prevention advice from the pest controller.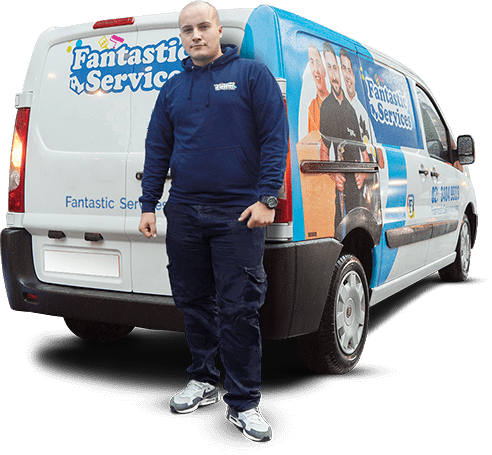 Your friendly Caroline Springs exterminator
Pest control - this type of service is as serious as it sounds. And what does a serious job require? A serious person. Julian is exactly that kind of professional.
The expert exterminator decided to become part of Fantastic Pest Control because he wanted to expand his client base in Caroline Springs. In the very beginning, he mostly dealt with insect infestations, but as time passed, he managed to "level-up" and expand his skillset, now having the ability to resolve rodent problems, too. Like the other trustworthy pest controllers, we work with, Julian has a lot of experience in the field, so you can rest assured that your home or place of business is in safe and capable hands.
Where you can book us, apart from Caroline Springs
Attacked by a nasty pest? Spare yourself the store-bought insecticidal sprays and other DIY vermin solutions and request the help of Fantastic Pest Control. Check the list we've provided below to find out if we cover your location:
The extermination services we offer in Caroline Springs
Rat control

We don't need to say how dangerous rats can be. Even if you have just a hunch that your house has been invaded by rats, give us a call ASAP! One of the Fantastic pest control technicians will come to your property and install special baits and/or traps to get rid of the problem. And if the infestation happens to be bigger, we'll organise an additional follow-up visit or two for you to make sure that there is not a rodent left behind.

Cockroach extermination

Roaches. There is nothing like stepping on one of them in the middle of the night… BAREFOOT! Crunchy. Well, if you book our pro pest control solution, you won't have to "enjoy such pleasurable moments" anymore. Depending on the severity of the infestation, our services may include the use of special dust, sprays, or bait insecticides. Generally, bait setting is the most popular method and requires about 3 weeks to do its job.
Ah, flying pests - aren't they just "wonderful"? There is nothing like getting attacked by a hungry mosquito army or to discover that you've been sheltering a whole wasp family. If you are tired of dealing with flying things "bugging" you, contact Fantastic Pest Control. We will schedule you an appointment, take care of the problem with the use of powerful insecticidal products or remove the whole nest (in case of wasps), and leave you with a bug-free home.

Commercial pest control solutions

Do you know what mice, rats, bed bugs, ants, beetles, and roaches have in common? Just the sheer mention of their names in front of a business owner can give him a mini heart attack. And this is perfectly normal - a single roach has the ability to close your restaurant. If you worry that your beloved restaurant, hotel, office or shop has been infiltrated by a vicious pest army, Fantastic Pest Control is here to save the day. Our extermination services are customisable, done with professional products and equipment, 100% safe, and for your peace of mind - completely discreet.