Reliable Pest Control Services in Point Cook
Trained and qualified pest control experts
Using only eco-friendly and fast-acting pesticides
Convenient online booking and flexible schedule
Special discounts for our Fantastic Club members
Fantastic Pest Control in Point Cook - Rid your property of pests!
It's no one's idea of a pleasant weekend to kneel while searching for mice nests or to run around the house to find where all the termites are coming from. This is where Fantastic Pest Control comes in! We offer you a special 3-step pest control treatment that will surely help you in saving your property from nasty rodents or any other pest that is attacking you.
We specialise in helping both domestic and commercial properties in Point Cook, so even if your whole restaurant is invaded, the friendly pest technicians will gladly take care of the problem! You can book your service for any day of the week, including weekends and public holidays because we understand how urgent some cases might be.
Here is what to expect from our pest control solutions in Point Cook.

The technician will arrive on the day you've requested, fully equipped and ready to start immediately! He will begin with a thorough inspection of the property, in order to locate the entry points, nests and problematic areas that can be associated with the invasion. This will help him determine the exact level of the infestation and choose the best possible method for your situation.
If possible, he will start treating the affected areas immediately with the appropriate pesticide and pest control method. In some cases, you will need to choose a different day to perform the treatment, as some preparations will have to be made. They usually include vacuuming the floors, moving heavy furniture out of the way and clearing your property from things that might attract more pests.
This next step is extremely important as oftentimes, one treatment is not enough to fully eradicate the pests. You will have to be vigilant and notify us the second you notice any further signs of infestation, so we can stop the latter as soon as possible. For our customers in Point Cook, we recommend that they book a 3-month guarantee service that will include two additional visits from the same pest technician, in order to fully exterminate all invaders.
Now that this nightmare is over, chances are that you wouldn't want to endure it again. This is why after the service is over, the certified technician will provide you with a full report on what's been done on your property, the types of pesticides he has used, what caused the initial infestation and much more useful information that will help you prevent recurrences in the future. You can also ask him for prevention tips or explore our website for further information.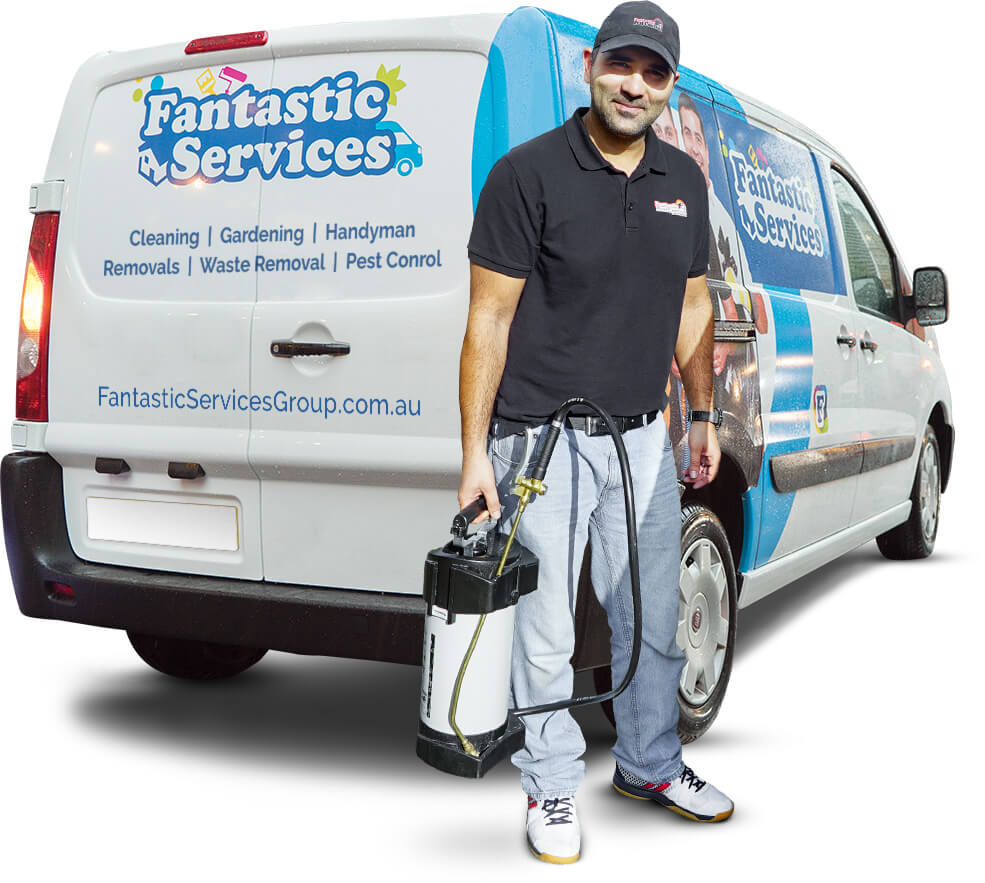 Why book a technician with Fantastic Pest Control in Point Cook?
We love helping communities grow which is why we always work with local service providers, in order to help them grow and expand their business further. One of those dedicated professionals is the cheerful Julian who since joined our ranks has helped hundreds of families and commercial facilities in Point Cook since then.
He is always striving to learn the newest methods in the pest control business, in order to deliver the best possible service to all our clients. As mentioned above, Julian is trained to serve both domestic and commercial properties, so whatever your pest problems might be, he will be there to discreetly take care of the invaders using professional techniques and equipment.
Where around Point Cook can you book a Fantastic Pest Control service?
When it comes to removing pests, urgency is often quite important. This is why we are constantly trying to expand our coverage and help even more families and business owners with their pest problems. Here is where else you can book a professional pest control service:
What kind of pest control services do we offer in Point Cook?
Mice and rat control

Rodents might look cute and you're maybe tempted to teach a rat to cook and send him to Paris but unfortunately, the most you will get out of these little friends is a lot of trouble and damage to your property. Protect your home and office from diseases by immediately booking a professional pest control service.
Aussie homes are often the victims of infestations caused by all kinds of flying pests, such as mosquitoes, moths, birds, beetles, bees and even wasps. Fret not! In your time of need, the Fantastic pest control technicians will come to your aid in just a couple of clicks. They are trained to safely remove wasps and their nests using fast-acting pesticides and carefully relocating the nest itself to a safer location. Other flying pests will be also treated accordingly be it with a powerful insecticide or pest repellent devices (birds).

Cockroach control

Cockroaches might be able to survive a nuclear war but unfortunately for them, they will not survive a clash with the Fantastic Pest Control exterminators. We use highly-effective and fast-acting baits and pesticides that will surely get rid of any crawlies in your property and keep your family safe.

Bed bug treatment

These little bloodsuckers can find their way into your property in no time and when you least expect it, too. People can transfer bed bugs from a romantic getaway in a fancy hotel or by purchasing second-hand furniture without inspecting it thoroughly. Save your family from nasty bites by booking a professional bed bug treatment with Fantastic Pest Control and leave the hard work to the experts.