Reliable Pest Control in Melton
Comprehensive pest management approach
Short-notice pest inspections, subject to availability
Special lower rates of up $40 with our Fantastic Club
Guaranteed service packages that include more than one visit
Prevention expertise and proofing information
Enjoy a pest-free home in Melton by hiring a local pest exterminator
If your home or business facility in Melton has been invaded by some sort of vermin, be it rats or insects in their numbers, call Fantastic Pest Control to handle the infestation expertly and efficiently! We work with pest technicians, who are certified, insured and experienced in providing various pest-extermination or pest-repellent and vermin-removal solutions to the highest standard. Crawling little insects, pesky rodents, birds or flying insects will be all dealt with in line with all the industry's best practices and approved regulations.
Don't leave a small pest problem turn into an out-of-hand infestation, nor should you try using any DIY methods that will most likely fail to work! Just call a professional to get the job done, as he can also help you reduce the risk of re-infestations.

The pest control service always involves a preliminary inspection, which helps the specialist determine the scope of the infestation and the exact type of pest that has been giving you problems. At this point, the exterminator will be able to decide on the most effective pest control method to use for your specific vermin situation.
The actual pest treatment is applied with your safety in mind at all times. This means that in some cases, you may need to leave the property for a few hours. The pest technicians come fully equipped with industry-grade anti-pest products, suitable for your particular case. The service is not limited by time, so the pros will not leave until all affected areas have been treated.
We offer guaranteed 3-visit service options, which give our clients the peace of mind they need. You'll be eligible to get 2 follow-up inspections and treatments, if necessary, upon request and free of charge within a period of 3 months after the initial treatment. Note that some types of pest infestations require more than one visit by default (bed bugs, termites, etc).
Upon completion of the treatment, the pest controller will present you with a detailed report that you should keep for future reference. You can also count on the expert's professional pest prevention tips, which will help you keep infestation recurrences at bay.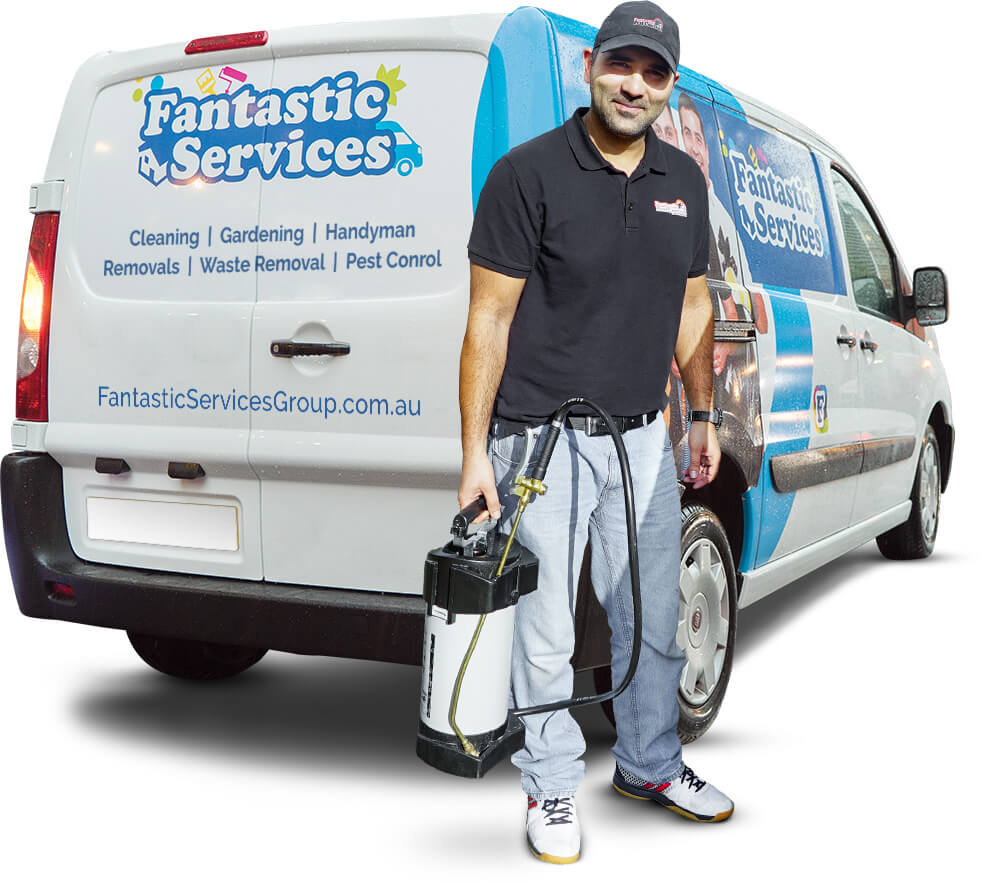 Who is your local pest controller in Melton?
Fantastic Pest Control in Melton works with Julian, who holds all the necessary certifications and qualifications to provide professional pest control services. The expert is also experienced, diligent and well-versed in using the most effective vermin elimination methods, be it through applying pesticidal products and devices or by using pest-deterrent and removal techniques, whenever it's appropriate and required by the law.
Julian is friendly and discreet, so while the service takes place, you can count on your family reputation or business image staying untarnished and protected. The pro will also gladly give you his tips on how to prevent future problems with the vermin.
Other location near Melton that we cover
Our service coverage is growing so that we can assist more and more residential and commercial customers with their pest management needs promptly, regularly and in the most effective manner. So, if you happen to be located near Melton in one of the following areas, we've listed below, don't hesitate to get in touch with us as soon as you spot a sign of vermin on your property.
We can help you against various pests in Melton
Mice, rats & possums

Free your property of any pesky rodents or wildlife intruders, which can damage your property and transmit dangerous diseases. The exterminators will apply the best possible method to rid you of the health-hazardous vermin. We also work with certified possum catchers, who will safely remove your unwanted furry guest in a humane manner and release it back in nature by complying with all wildlife protection legislation and procedures.

Spiders and other crawlies

Crawling insects can enter your property in their numbers and soon turn into a hard-to-control pest infestation, as they breed fast. From ants and destructive termites to roaches, bed bugs and creepy spiders, we will apply the right pest treatment to eliminate the problem. The pest controllers will come fully prepared for the job at hand.

Flying insects and birds

Whether you've spotted an angry colony of wasps near your home or you've been pestered by mosquitoes, the Fantastic Pest Control crew will handle the insect infestation with effective results. If you need bird control measures applied, note that we only use humane bird-repellent devices, which will reduce the number of uninvited feathery creatures on your property by deterring their attempts to perch on any exterior building features.

Business pest control

No matter if you own a restaurant, a medical practice or any other non-residential facility, Fantastic Pest Control will approach your pest issue discreetly and with your reputation in mind. We can provide you with a customised pest management plan, supervised by a personal account manager, to ensure that all best practices of inspection, treatment and post-service processes are applied with guaranteed results.