Effective Extermination Services in Mornington
Performed by highly-experienced technicians
Done with quality products, equipment, and materials
Suitable for both domestic and commercial properties
Completely safe and highly-effective pest control methods
Discreet, unbranded vehicles for your peace of mind
Why pick our pest control services in Mornington
By booking our pest control service you get a full service package - a thorough property inspection, an effective pest control treatment, and additional post-service extermination visits.
With us, you can expect a vermin-free home in no time thanks to our pest controller's expertise, knowledge and, of course, professional equipment. Also, we understand that you can't predict when a mouse family will decide to invade your home. That's why we offer emergency pest control visits and an overall flexible work schedule that includes Saturday and Sunday appointments.

Our professional pest control services start with a thorough property inspection by your assigned exterminator. He will inspect the entire premises to double-check for signs of the pest you want to be removed. For example, if you suspect that you have bed bugs, he will look around your bed for eggs or blood spots, and if you think you have mice - the professional will try to find potential access points and animal droppings.
The next step of our service is the actual pest control treatment. Depending on the type of vermin you have, the technician will use a specific pest control method like baits for mice and rats, insecticide sprays for spiders, etc. If you've scheduled the service for a rodent infestation, the professional will also close any access points around your house, in order to prevent future mice, rats or possums from entering the property. Note that some of the extermination methods, we use, require you to leave the house prior to the procedure and take all of your pets, as well.
Not all extermination sessions proceed the same way - some infestations are bigger and meaner than you have imagined. That's why we, at Fantastic Pest Control, offer two service packages - 1-month guaranteed pest control treatment and a 3-month one. If you have a serious bed bug infestation, for example, the 3-month guaranteed offer is the one for you. The package includes a property inspection, 1 initial treatment and 2 follow-up sessions in the next 90 days after the service. The 1-month option is suitable for smaller pest problems and includes a home inspection, 1 initial treatment, and 1 post-service visit.
If you wish, you can always ask the professional pest controllers for any prevention tips that you can use to protect your home from future vermin invasions. The technicians that Fantastic Pest Control works with are always happy to share their expert advice.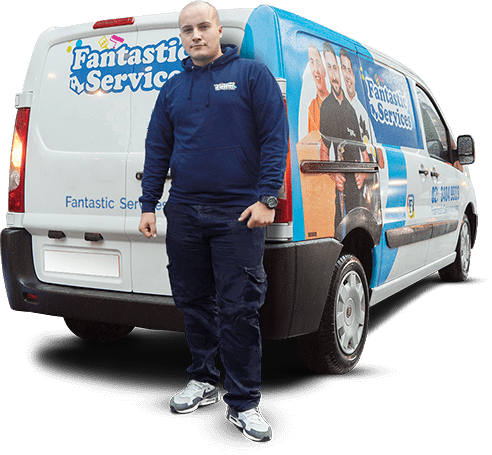 Your reliable Mornington pest control professional
Professional pest control requires experienced and highly-skilled tradesmen to complete such a specific job. With that in mind, meet Dominic - one of the best exterminators that Fantastic Pest Control has to offer in the Mornington area. The professional has been working as an exterminator for many years but joined our ranks in 2016.
Since becoming a part of our team of experts, Dominic has managed to create quite an impressive reputation for himself amongst the homeowners in Mornington. The technician specialises in bed bug control but can handle also rodent infestations and take care of wasp nests, too. So, if you need professional pest control assistance in Mornington, Dominic is your guy.
Our area coverage outside Mornington
Dealing with pest infestations can be very stressful. After all - nobody likes the sight of a cat-sized rat running through the kitchen. So, if your property happens to be under the attack of creepy crawlies, nasty rodents, or a pigeon army, check the list we've provided below to find out if Fantastic Pest Control covers your area:
Here are the types of pests we treat
Rodents and possums

Our experienced technicians can take care of mice, rats, and possums. The service involves a thorough inspection of your property to figure out what kind of rodent we are dealing with, bait setting, and filling of all holes that can serve as entry points for the pests. If you aren't sure about what kind of rodent has invaded your home, don't worry, the pest controller will double-check on-site.

Crawling insects

No matter if you have a bed bug problem, ant infestation, or a creepy spider hiding under your sofa, the specialists of Fantastic Pest Control in Mornington can take care of the pest situation for you. The technicians use professionally developed extermination methods that are both safe for your family and home and are extremely effective.




The treatment includes the use of special insecticidal sprays, baits, and fumigation procedures that will have any creepy crawly running for its life.

Flying pests like wasps, for example, can be very dangerous and it's best to have a professional resolve the infestation problem. The technicians of Fantastic Pest Control can perform 100% safe wasp nest removal with the use of special tools and equipment that will leave your property pest-free in zero time.




Also, we offer bird control for all of those pesky pigeons partying on your roof. And don't worry - no birds will be harmed in the latter service option.

Business pest control services

A pest infestation, no matter the type, can make any business owner enter a panic mode in mere seconds. After all, there is a lot at stake - the facility's reputation, the clients and workers' health, and the property's integrity. If you are a hotel, restaurant, office, or shop owner and worry that your property has been infested by nasty vermin, don't worry one bit because the professionals of Fantastic Pest Control have got you covered.




Thanks to our effective and safe pest control methods, professionalism and discretion, there won't be a rodent, bug, or pigeon left to terrorise you or your clients. Get in touch with Fantastic Pest Control today and restore the healthy environment of your business in Mornington.