Pest Control in Cranbourne
Vetted and certified pest technicians
Trained to tackle a wide variety of pests
Prompt, uniformed and fully equipped
Flexible schedule with a full week availability
A thorough 3-step service with no time limits
Book your professional pest technician in Cranbourne today!
Are mice invading your home or you've been suddenly attacked by vicious bed bugs that just won't let you sleep calmly at night? Fret not! Fantastic Pest Control is here to help. Booking your appointment is easy and you can choose to have your service any day of the week, including weekends and public holidays.
We will send out technicians who are specially trained to deal with all sorts of pests such as crawling and flying insects, rodents and even birds and possums. Depending on your situation, you can choose a different service with one or two extra visits that is suitable for both your home and office. We use discreet vans and only the latest equipment in the trade to guarantee a 5-star result and a pest-free property.

This first visit is for the exterminator to fully examine your property and determine the level of the infestation and the species of the pest. He will carefully inspect all potential breeding grounds for signs like droppings, marks and typical damage, as well as entry points and anything else that could help him identify the problem precisely. This process is crucial for choosing the right treatment and products, so when it's complete, the pest technician will provide you with the results and advise you on what the best approach is in your case.
Once the inspection is complete, the exterminator will start the treatment with the appropriate product and equipment. All technicians use professionally approved pesticides and insecticides, in order to achieve maximum results and free your property from the nasty invaders. Depending on what kind of pests he's dealing with, the pest control specialist will use the most appropriate product be it traps, gel baits, sprays, fumigants, powders or say, termite monitoring stations. If you have mice or rats, he will also seal all possible entry points.
In most cases, we recommend that you choose our guaranteed service that can include either 1 free visit, a month after the initial treatment, or one with a 3-months guarantee that includes two additional visits. Especially for properties with a severe pest infestation, those follow-up visits are extremely important, in order to make sure that there are no pests left and no chance of the infestation to happen again. The technician will arrive, again on a day that is convenient for you, check up on the progress of the treatment and decide if there is a need for further action.
At the end of your pest control session, the exterminator will provide you with a full report on the treatment, answer any questions you might have and share some useful advice on how you can prevent a future infestation and keep your home pest-free. In the report, you will be provided with details on the used pesticides, information about the guarantee and important safety tips. We recommend that you keep this document somewhere safe.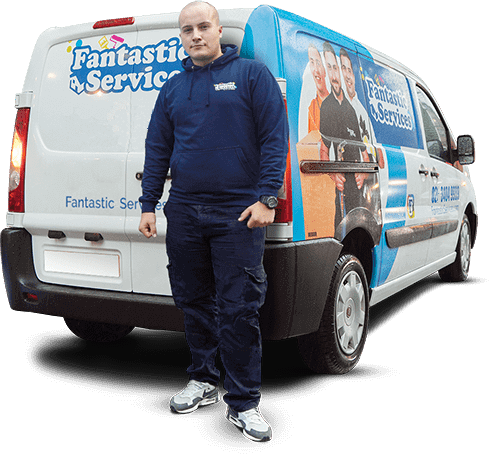 Say hello to the professional pest controller in Cranbourne
We always strive to provide the best possible service to all our clients and this is why we are always looking for passionate and experienced technicians to join our ranks. One of those amazing professionals is the friendly Dominic, who has been part of Fantastic Pest Control for 5 years now. He is fully trained and certified to deal with all sorts of pests in both domestic and commercial properties.
His many years of experience have helped him learn to deal with all kinds of situations. The professional has assisted hundreds of households and business properties in Cranbourne with their pest problems. Dominic's amazing people skills and honesty make him one of the most trustworthy professionals in the field.
The expert pest control technicians in Cranbourne are always ready to help
No matter the type of pest you're dealing with, an infestation should be taken care of as soon as possible. Stopping an invasion on time can save you a lot of money, problems and stress, which is why we are constantly expanding our coverage, in order to help as many people as possible. Take a look at all the areas around Cranbourne where you can book a professional pest exterminator.
Types of pest services in Cranbourne that you can book with Fantastic Pest Control
Rodent control

If you have problems with mice or rats, you should take immediate action. These small critters can cause a lot of damage to your property and pose a great risk to your health with all the diseases they can transmit. So if you notice any signs of mice, rats or possums, don't hesitate to schedule an appointment with us.




The rodent control specialist will thoroughly investigate your property to find all the entry points and seal those that are up to 3cm in diameter and are easy to access (he would not dismantle kitchen units or move heavy furniture). When the inspection is complete he will place effective poisonous baits.

Crawling insects

Despite their size, insects can be extremely dangerous and their full extermination must be realised with extreme caution. Every technician at Fantastic Pest Control has been trained to handle even the most complicated situations, using high-end products and equipment and carefully applying all best practices when dealing with such infestations.




If you notice any signs of ants, bed bugs, cockroaches, fleas, spiders or termites quickly book your pest technician with Fantastic Pest Control in Cranbourne. We use a different approach with each pest, using products like bait pesticides, spray and powder products. Depending on the level of infestation in your property, you can include follow-up visits and repeat the treatment to achieve full eradication.

Fantastic Pest Control offers professional and effective pest removal in Cranbourne to help you get rid of all those flying creatures you need gone. This also includes taking care of wasps and bees by removing their nests, using products that are completely safe for both people and pets.




The technicians use a wide variety of highly-effective pesticides like gel baits, sprays, fumigators, repellents and more. Rid your home of flying pests and don't worry about damage, food poisoning, allergies and potential diseases. We can help you with bee control, beetle control, bird control, mosquito control, moth and wasp control.

Commercial pest control

Pests don't really care whether they are invading a private home or a restaurant. They are in a constant search for food and very often this journey will lead them to a commercial property, causing a ton of trouble for the owners. Pests will do anything to find shelter and food and in the process, will damage expensive equipment, machines, spoil food, spread dangerous diseases and much more.




Fret not, as our discreet commercial pest control services are here to help you in this dire moment. A fully customisable service that can fit all sorts of business properties and that you can schedule according to your availability. So no matter if you have a warehouse, factory of some sort, restaurant, café, medical facility, a shop or an office for your company, schedule your service and leave your worries behind.