Expert & 100% Safe Pest Control Services in Berwick
100% safe for your family and pets
Experienced and trained local exterminators
Will handle even the heaviest of pest infestation
A service performed with professional tools and materials
Flexible work schedule and availability for emergency visits
Why choose our pest extermination services in Berwick?
By choosing Fantastic Pest Control you get an all-in-one service package - a thorough inspection of your property, an effective pest control procedure, and a follow-up visit(s). All of our methods have an extremely high success rate thanks to the technicians experience in the field and their professional extermination methods.
Of course, we want you to feel as calm as possible in a stressful situation like a pest infestation. That's why we offer full discretion to our clients by arriving on-site with unbranded vehicles. Our company also has flexible booking options, so you can make a service appointment for the most convenient time for your busy schedule.
One of the most important steps of our pest control service is inspection. The technician needs to investigate your home, so he can determine the type of creepy crawly or furry "buddy" that has attacked your property.
We are looking for signs like mice droppings, nests or eggs, blood specks - if we are dealing with insects, and other types of marks. After the technician has completed his inspection, he will discuss with you the type of treatment he'll use, in order to make the pest disappear.
The next part of the extermination service is, well, to exterminate the pest. You see, there are so many types of pests out there and they all require a specific control method. What works against a spider, will definitely not kill a mouse.
That's why the technicians are ready to use every type of extermination method possible - strong insecticidal sprays, powders, rodent baits and traps, etc. Once the pest controller has checked your property and knows for sure what kind of pest he needs to remove, he'll pick the right tool or pest control product.
Depending on the severity of your pest control infestation and the type of vermin that has attacked your home, you have two service package options to choose from: a 1-month guaranteed treatment and a 3-month one.
With the first package, you get a property inspection, one pest control procedure, and one additional follow-up visit from the technicians (upon request). Your second option includes, again, an inspection of your home, one treatment, and two additional visits within 90 days after the first procedure.
Wondering how to prevent future pest infestations? Just ask the Fantastic Pest Control technicians and they will tell you everything you need to know!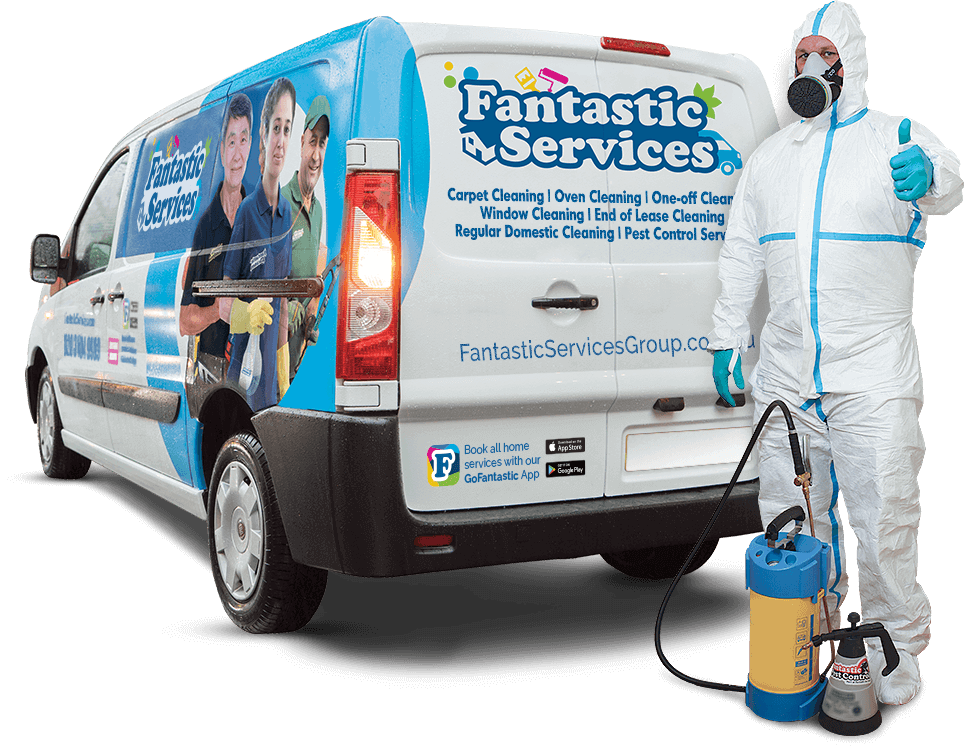 Your trustworthy Berwick pest controllers
Pest control is one of those services that require a lot of experience, a well-developed set of skills, and let's face it - a strong gut. Basically, it's a job that can be completed only by a very brave and skillful person. That being said, meet Dominic - your friendly Berwick pest control expert.
Dominic became a member of our ever-growing family way back in 2015. His forte is rodent control and let us tell you this - he can make even the biggest, meanest, and angriest rat make a run for it. The professional understands how stressful a pest infestation can be for our clients and makes everything possible to make our customers feel safe during the service. Thanks to his professionalism and positive attitude, Dominic has won the hearts of many people in Berwick, making him one of the best experts that Fantastic Pest Control has to offer.
Here is where you can book our pest control services
Can you actually name somebody that enjoys dealing with pests? Exactly. If you happen to be under the siege of a mouse army or munched on by a bed bug family at night, check the list below to see if Fantastic Pest Control covers you area and book you extermination service now!
The types of pest control treatments we offer in Berwick
Rodent extermination

Mice and rats may look innocent, thanks to their small size and cute whiskers, but let us tell you this - they are extremely dangerous. Both rodent types can be a threat to your health and home.




If you suspect that you have one of the two running around your property, we advise handling the situation as quickly as possible. Fantastic Pest Control in Berwick offers effective rodent control methods that include a thorough investigation of your property, bait setting, and if required - hole sealing. With us, you can consider mice and rat problems a thing of the past.

Crawling insect control

A large number of crawling insects in your home is never a good thing. No matter if we are talking about ants, spiders, beetles or bed bugs, we can take care of your pest problems. Our technicians are trained and equipped to handle even the biggest and nastiest vermin infestation.




The methods work very fast, are extremely effective and safe for both your family and pets. In case of a more serious infestation, like a bed bug one, for example, we offer service packages with additional follow-up visits to make sure that your property is completely clear from all insects.

What is worse than crawling pests? FLYING ONES! But fear not, Fantastic Pest Control is here to save your family and home from any type of flying, well, anything.




If you've had the bad luck of finding a wasp nest near your home or you're tired of tiny flies invading your personal space, just give us a call and we'll send you a professional to handle the situation the safe and fast way. The technicians use only industry-grade products and quality materials, so you can be sure that there won't be a bug left in your home after the service.

Commercial extermination services

There isn't a business owner on this planet that fancies the idea of having his hotel, restaurant, office or shop attacked by any sort of pest. If your business has fallen a victim of a rodent, insect or flying pest army, don't worry, the professionals of Fantastic Pest Control will make the pests disappear.




By choosing our company to take care of your commercial property, you get to benefit from a convenient and flexible work schedule, customisable service package, and 100% safe and effective results.